Create a professional writing portfolio website,

the easy way.
Create a pro-grade portfolio in five simple steps.
Build your brand with customizable themes.
Enjoy a hassle-free set-up: no coding, no downloads.
Go live in minutes with our automated portfolio builder.
Keep your best work secure online forever.
*Low monthly subscription. Cancel anytime. No credit card required.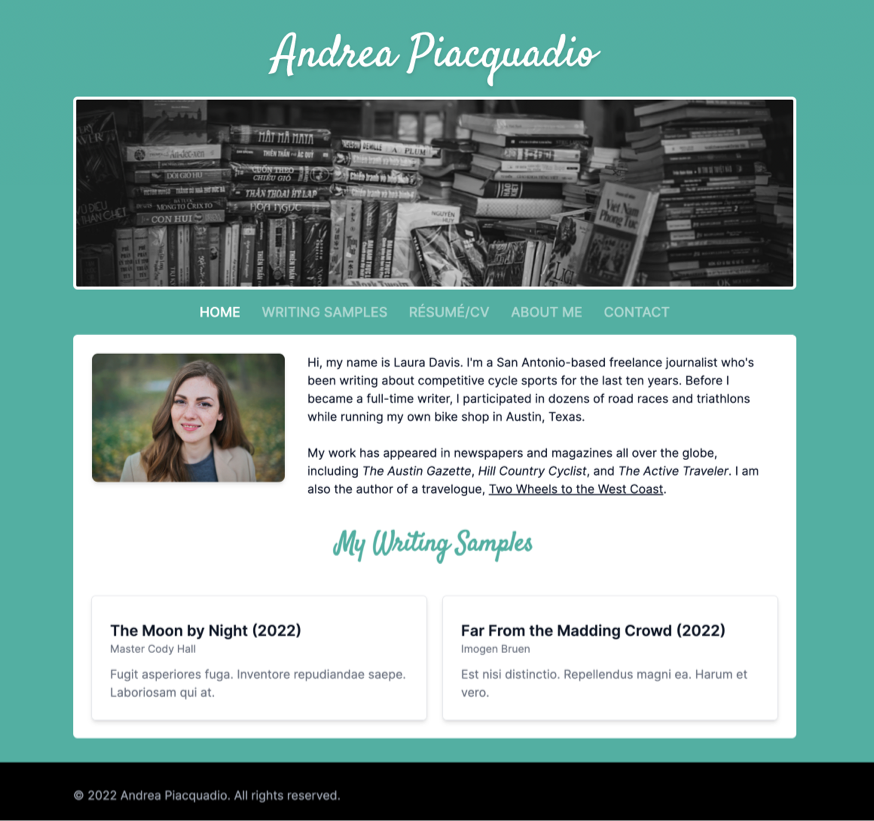 Show the world you're a professional writer.
Whether you're an established writer or just starting out, a great portfolio speaks volumes. No tech skills? No designer? No time? No problem. Why struggle to build a website when you could be building a career doing something that you love?
Customizable Themes
Choose from one of our pro-designed themes and add some flair with customizable colors, images, fonts and more.
Personalized Domain
Your portfolio includes a yourname.writersresidence.com domain. If you already have an existing domain, you can use it instead at no extra cost.
Unlimited Content
Add new writing samples or multimedia content anytime and in any format. Keep it simple or build a library — extend your portfolio, not your budget.
Simple, Affordable Pricing
You'll never have to upgrade; we have one plan with all the features for an affordable, monthly fee.
Go Private
Create a password-protected portfolio if you want to share your work privately.
Or Get Noticed!
Help search engines find your portfolio. Follow the easy optimization steps with handy, on-screen tips.
Supporting Writers Since 2008
For all your questions, our friendly team is at hand. Writer's Residence is looked after by writers who understand your challenges and we're here to help. No call centers, no robots.
No Corporate Shenanigans
We're a small team of writers and nerds who care about your success.
Build Traffic to Your Portfolio
Hook up to Google Analytics to measure visitors, engagement and more.
A Home for Your Blog
Showcase your expertise without editorial constraint, and write about the topics that inspire you most.
Get Organized
Help your visitors find what they need. Create multiple pages or use categories to organize your work.
Our Easy Five Step Process
Launch your writing portfolio website in less than 30 minutes with our automated Five Step Process.
Loved by writers worldwide.
Freelance writers, journalists, copywriters, authors and more love Writer's Residence for its simplicity, ease of use, and tailored set of features designed specifically for professional writers.
Creating the site was so intuitive and effortless that I actually had fun doing it…Monica also helped make the whole experience a pleasure from the beginning with her friendliness and immediate response to the very few questions that I had.

Maureen Corrigan

MoJo Communications

It took me forever to find an online writing portfolio site that was easy to do. You guys have something really great here, and I can't wait to work more with it.

What new freelancers have been searching for all their lives and now here it is, all tied up in one stress-free neat package.

Carole Woddis

Freelance Writer

Bravo! I needed an appealing and professional online portfolio - but I'm a business writer, not a web designer. WR provides a turnkey solution that gets results. Monica and her staff are honest and savvy. They have a product here that every smart writer should consider.

Rich Hubbard

Business Writer

Writer's Residence is a fantastic resource for journalists. I found it very simple and easy to use, and the finished product looked very professional.

What Writer's Residence has done is create an easy to understand and easy to afford package which removes every excuse for avoiding taking the plunge. A brilliant concept, beautifully presented.

Andrew Crofts

Author of The Freelance Writer's Handbook

When I first started my business, I knew I needed a website. However, every time I thought I'd found one, it turned out to be geared towards visual artists...until I found WR. The templates are easy and require little adaptation because they were made with writers in mind!

Jesse Lee Gray

Freelance Writer

Each time I contacted you, I received a timely and helpful response. It feels like a personal interaction with someone who cares about my work. I'm just getting my freelance business started and Writer's Residence took all the stress over a website off my plate.

Kathy Adamson

Kathy Adamson

Writer's Residence definitely allowed me to highlight my writing and experience and was pivotal for me landing early communications roles.

From a techno point of view, Writer's Residence is the only host I could build my website on after trying Network Solutions, Wordpress, Wix, and Squarespace.

Deb Lehman

Author, debjlehman.com

I tried WP.com, Blogger and kin: wonderful for the amateur blog but not for my professional business. I stumbled upon Writers Residence and am so glad I did. Their design has won me nothing but praise and jobs.

Leah Zitter

Freelance Writer

Writer's Residence is the perfect tool every writer needs to create a professional online portfolio. It's easy to navigate, cost-effective, and aesthetically pleasing.

Adrianna Zampieri

Freelance Writer

The interface is incredibly easy to navigate and beautifully done. I had a lot of questions, but the customer support team has been amazing (as well as patient). With the website up, I can get back to telling stories, writing copy, and creating pieces that matter to me.

Wendi Whitmore

Freelance Writer

Writer's Residence is a lucky charm for writers who want to put their best work in front of potential employers and clients. Highly recommended for everyone who wants to showcase their work in an efficient, cost effective and compelling way.

Chris Beakey

Freelance Writer
Ready to share your
online writing portfolio?
Don't forget, we're on hand to help you launch your portfolio during your 30 DAY FREE TRIAL.
Get started for FREE